.............
in the Fells
Fell Walking
One of the three true mountain walking areas of the UK (Together with North Wales and Scotland).
Lowland Walking
Aside from walking the mountain trails there is plenty of lowland walking to be had, walking around any of the lakes/meres and valleys can be as spectacular as a hard walk to the top of a Fell.
Honister Slate Mine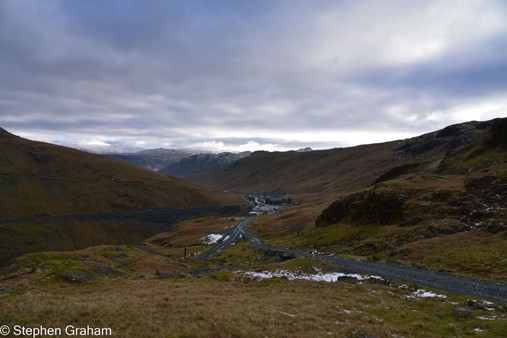 Honister Slate Mine is a working slate mine at the top of Honister Pass, near Buttermere. They do tours of the mines, and they have a great gift shop.

If you want something a little different and adventurous try the Via Ferrata at Honister, two different levels.
Climbing
There is a climbing wall in Keswick:
A number of climbing clubs and climbing tuition services are available across the Lake District.
Trail/Fell Running
If you like trail running then this is the place for you, there are many fell and trail running clubs, but it's just as much fun to pick a route and go out and run it.
Photography
A landscape photographers paradise, everything looks wonderful, and everything looks different every time you look at it, changing seasons, changing weather......
Some websites that give useful information.....
For some ideas you can also see the landscape images on the gallery page
here
.

Wild Swimming
This is a link to information on swimming in the lake district. It is wonderful but be prepared, you need to know the conditions in the different waters and how to safely experience them.
Horse Riding